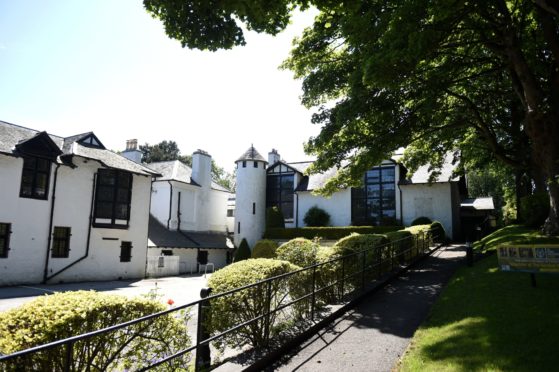 The Gordon Highlanders Museum has been closed for the last six months because of the Covid-19 pandemic and the imposition of two lockdowns, one local and one national.
That alone would have been trouble enough, but staff and volunteers have also had bad weather to cope with, as heavy rainfall caused flooding in August.
Now, however, officials at Aberdeen's only five-star visitor attraction have confirmed they will reopen their doors on October 2 – and they have decided to offer the public free admission to thank them for their support in recent years.
The museum has been one of the hardest-hit tourist attractions in the city, and the Press and Journal was invited into the building this week to examine the steps taken to ensure the safety of both its volunteer staff and anyone planning to visit.
These include the introduction of a one-way system through the premises, removal of the souvenir and food items and installation of hand sanitisers and stringent social distancing measures.
Sadly, the attraction's popular tea room and cafe will have to remain closed.
Chief executive John McLeish said he and his colleagues had considered whether to open two-days-a-week or four-days-a-week during October, and chose the former to test the procedures they have implemented.
Entry throughout the month will be free, but visitors will have to book in advance and have been advised to check the museum website for fresh updates.
Mr McLeish said: "We have considered all the different options, but our first priority has to be the health and wellbeing of our staff, visitors and volunteers.
"We have had several challenges to deal with, and parts of the museum were flooded last month, but we know how much this place means to so many people and we want to see them back in at some stage in October.
"We are not rushing things. The museum will close from November to the spring of 2021, and we have decided to carry out a major refurbishment of the building.
"We are aware of the challenges facing so many organisations and the continuing uncertainty for anybody running an arts or heritage building, but we want to encourage visitors to come back and see the changes we have made for themselves.
"Our volunteers, who do a crucial job, have also indicated their willingness to return to the museum, but we have to be sensible in how we move forward.
"We are already drawing up some tentative plans for next year, but the first step is opening to the public again after more than six months.
"This is a way of saying thanks to the people who have offered us so much support and encouragement in the last few years."
Museum curator, Ruth Cox, said that access to the award-winning Moffat Trench will be available for visitors from October 2, but without the guided tours that have been offered in the past – although these will be provided in other parts of the site.
She added: "Our research assistants have done a terrific amount of work dealing with a lot of public inquiries from home during the summer months and we are very grateful for their efforts.
"One of the main things to stress is that it won't be advisable for people just to turn up next month.
"Please book in advance, so we can organise enough slots to give everybody a pleasurable experience."
The public will be able to book visits to the museum from September 28.
Further information can be found at on the Gordon Highlanders Museum website.